"Everybody talks about the weather, but nobody does anything about it." MarkTwain.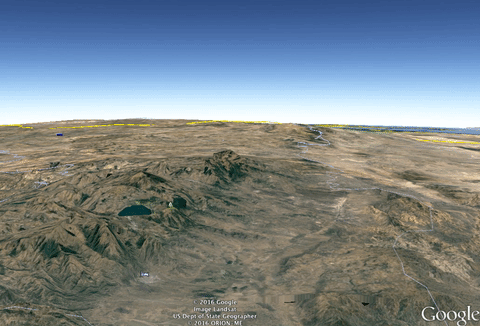 It may have been true when Mark Twain said it, but not today. Farmers, insurers and space scientists are joining forces to help farmers increase productivity and do more with less. They are taking a page from the biblical account of Joseph's interpretation of the Pharaoh' s dream of seven good years and seven lean years.
For many farmers, climate change means more bad years. To adapt, farmers must grow more food in their remaining "adequate" years. The challenge is that most of the farmer's options to grow more food make them more vulnerable to climate risk. Most farmers in the world do not have access to agricultural insurance.
To build the insurance correctly, we need to connect space scientists with some of the lowest income farmers in the world. How can we make sure that farmers have an explicit voice governing the projects intended to protect them? What innovative insurance products are being developed to help farmers manage this risk?
On the eve of The March for Science in Washington DC and at a time when science is under siege, you are invited to join ColumbiaDC for an interesting and dynamic conversation with:
Dan Osgood, Lead Scientist at the Financial instruments Sector Team of the International Research Institute For Climate and Society, Columbia Earth Institute
Panos Varangis '84GSAS '92GSAS, World Bank 
Ioannis Vasileiou '11SIPA, World Bank
These experts will discuss climate-smart agriculture and climate finance and the opportunities and challenges in these transformative efforts, in which smallholder farmers work directly with scientists to manage climate risk together. 
​Daniel Osgood leads the Financial Instruments Sector Team at IRI, linking climate information to financial tools to improve livelihoods in developing countries. His team supports most of the index insurance projects that have gone to scale, with hundreds of thousands of smallholder farmers purchasing index insurance contracts they have helped design through farmer-driven, science-based processes, leading to significant development impacts. His research topics include uncertainty in decision-making, environmental valuation, remote sensing proxies, information, and work specific to index insurance and economic development. He has been involved in global policy processes such as the UNFCCC, with projects he works on highlighted by Ban Ki-moon in the opening speech at the 2015 Paris COP. He has had press coverage in venues spanning Voice of America, Al Jazeera, the Guardian, Nature, New York Times, and Reuters. 
Panos Varangis is currently the Global Lead for agricultural finance and agricultural insurance in the Finance and Markets Global Practice at the World Bank Group. Prior to that Panos led IFC's work in advising financial institutions to provide financial services to SMEs, agribusinesses and farmers.  Before joining IFC, Panos served as the Deputy CEO of the Agricultural Bank of Greece (2004-2009). From 1987 to 2004, he worked at the World Bank in various positions at the International Commodities Division, the International Trade Division, the Bank's Research Department and finally at the Agricultural and Rural Development Department where he oversaw a global program on commodity risk management. Panos holds a Ph.D. in Economics from Columbia University in New York.   
Ioannis Vasileiou serves as an Agricultural Specialist at the World Bank's Agriculture Global Practice. He is a member of the Bank's Climate Smart Agriculture (CSA) Team. Before, Ioannis worked as a Science Officer for the CGIAR Research Program on Climate Change, Agriculture and Food Security (CCAFS), based at the International Food Policy Research Institute (IFPRI). Ioannis has previously worked on sustainability in the Cabinet of the Commissioner for Environment at the European Commission, at the United Nations, including work with the Climate Change Support Team of the UN Secretary General, the Division for Sustainable Development at DESA, the Global Compact, and the Global Pulse, as well as with the non-profit sector, most recently with the Millennium Promise, and multiple governments. He holds a Master of International Affairs from Columbia University's School of International and Public Affairs (SIPA), as well as a joint Msc-MBA in Industrial Management, focusing on Energy and Environment, from the National Technical University of Athens and the University of Piraeus.